Personal Investments
Financial Consultant John Parker utilizes his expertise and experience to provide investment and insurance services.
Plan for the Future of Your Dreams
Insurance Products
One of the risks we all face, regardless of age, is the potential for sudden illness, injury and, subsequently, the need for long-term care. All of these have far-reaching effects not just on your health, but on your way of life, your ability to earn income and on your overall finances.
Ask about our products:
Life Insurance
Annuities - Variable, Fixed, or Immediate
Long Term Care Insurance
Retirement Planning
Planning for the future you always wanted - starting today
Life's a journey; one with many twists and turns along the way. One day you're graduating college, the next you're leaving work behind for a new adventure. The question is: How ready are you to navigate your journey to retirement? Do you know what it takes to manage your money and help it last as long as you need it to? We do. And, we know it's never too early to start planning for the future you imagine.
No matter what stage of life you're in, we can help you pursue independence, freedom and the things that matter most to you. Your journey begins now. Let us help you get on your way.
College Funding
A higher purpose, a brighter future
You believe in the value of quality education. So do we. And we understand that the costs can be intimidating, maybe even seem out of reach, for many families. The good news is that there are a variety of investment vehicles to help bring higher education within reach – for a child, grandchild or even yourself. And although it is best to start the college investment process when your child is young, it is never too late to begin.
No matter your child's age, what's important is that you plan now. That's where we can help.
Estate Planning
Creating your legacy and leaving your mark.
One of the greatest rewards of wealth is being able to share it with others. You've taken care of your own needs and wants, but it takes prudence and planning to make sure your loved ones and favorite charities last for generations. Having an estate plan to control the distribution of your assets benefits you, your family and the causes you care about and can help you mitigate potential pitfalls in the future.
We have the resources to customize a plan that not only protects your assets but also helps you share your wealth with the people and charities you care about most.
Goal Directed Planning
Any major life change – even a positive one – comes with its share of stress.
Regardless of the reasons, think about what direction you want (or need) to go in before you make a major decision that will affect you, your family and your financial future.
We can serve as a sounding board when considering your options and offer financial advice throughout the transition.
Investment Products
Every investment involves some risk, but the key is whether you're willing to take on the risk for the potential reward. That's where proper asset allocation, finding the right balance of investment strategies, comes in. Your particular mix should balance risk with reward in an effort to help you reach your goals.
By regularly monitoring and reviewing your portfolio, we can ensure you have the right balance of investments with the potential to help generate the returns you want and provide the protection you need for where you are in life.
We offer a wide range of products:
Mutual Funds
Stocks
Bonds - Treasury, Agency, Corporate, and Municipal Bonds
Real Estate Investment Trusts (REITs)
Options
Unit Investment Trusts (UITs)
Diversification and asset allocation do not ensure a profit or protect against a loss
JWParker Financial Services, LLC and Hearthside Bank are not affiliated with Raymond James Financial Services, Inc. Investment advisory services offered through Raymond James Financial Services Advisors, Inc.
Raymond James financial advisors may only conduct business with residents of the states and/or jurisdictions for which they are properly registered. Therefore, a response to a request for information may be delayed. Please note that not all of the investments and services mentioned are available in every state. Investors outside of the United States are subject to securities and tax regulations within their applicable jurisdictions that are not addressed on this site. Contact your local Raymond James office for information and availability. View Raymond James Corporate Privacy Notice.
Check the background of this investment professional or firm on FINRA's BrokerCheck.
Links are being provided for information purposes only. Raymond James is not affiliated with and does not endorse, authorize or sponsor any of the listed websites or their respective sponsors. Raymond James is not responsible for the content of any website or the collection or use of information regarding any website's users and/or members.
Plan for the Future of Your Dreams
We invite you to call or stop by to set up an appointment. John is available to meet with you and discuss your investment needs at any of our Hearthside Bank locations.
For a complimentary consultation call 800-354-0182.
Retirement
This April, Beth and I celebrated 19 years right here at Hearthside Bank. What a wonderful partnership it has been. We came to Middleboro in April of 2004 and made this place home. The most rewarding aspect of our practice has been our relationships with people like you.
Because we have such deep respect for our clients, Beth and I want you to know of our plans to retire on December 31, 2023. We have loved being your financial advisors, so while we are ready for a new phase in our lives, we also find it difficult to make this decision. Our children live in other states and we want to be able to visit them more, while we can.
We have been searching for a new partner for our business who would share our values and would appreciate our clients as we do. We believe we have found that person. His name is Robert (Bob) Jones. Bob has been with Raymond James for over 20 years. He has a successful family practice that includes his children. We like the way Bob listens to people and helps them navigate the waters of their finances. You may have heard us say that we believe that our clients' knowledge is a critical ingredient in the advisory relationship. Well, Bob shares that belief. He pays attention before offering advice. And while listening is critical to what we do, it is Bob's compassion that stands out.
We began this partnership with Bob on April 1, 2023. During the coming weeks we will introduce you to him so that you might see in Bob what we see. Bob and I will both be listed as advisors on your accounts going forward. Thank you for your remarkable confidence in us over these years.
Sincerely,
John W. Parker
Financial Consultant
Beth Parker
Office Manager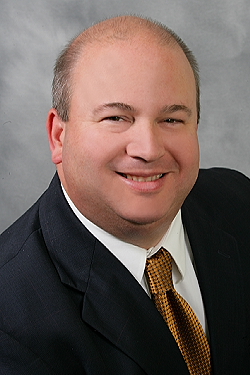 John Parker
Financial Consultant, RJFS
1602 Cumberland Ave.
Middlesboro, KY 40965
T:606.242.1018 // T:423.441.9099
F: 606.242.1010
About John Parker
John feels driven to help other find financial stability and independence as the define it. He strives to listen to each client carefully in order to design a plan or strategy uniquely suited to them. John operates on the conviction that each client contributes as much insight to the investment planning process as the advisor does, since they contribute their own experiences and attitudes towards money, and their personal goals. Taking the time to listen with care is a priority.
John began his career as a financial advisor with Paine-Webber (now known as UBS) in 1998 where he managed private client assets and small-business account relationships. John went on to serve at Hilliard Lyons, then as Vice-President of financial services at Bank of America in Oak Ridge, Tennessee where he gained a new perspective working inside a retail bank. John also worked for several years at Union Planters. In 2004 John relocated to Middlesboro, Kentucky at the invitation of Hearthside Bank of Middlesboro, where soon Beth joined his practice as a licensed sales assistant and later, as a partner. In 2015 they made the decision to establish their own independent practice, JWParker Financial Services, clearing though Raymond James Financial Services. They now see clients in 5 branch offices in Harlan and Middlesboro Kentucky as well as Harrogate, Tazewell, and Jacksboro, Tennessee.
John earned his bachelor's degree in music from Carson-Newman College and a Master of Church Music degree from Southern Baptist Theological Seminary in Louisville, Kentucky. He is a member of First Baptist Church of Middlesboro, where he serves as chair of the Appalachian Immersion committee, sings in the choir and has served on several committees and planning groups. John also volunteers his time with the Cooperative Baptist Fellowship of Kentucky and their "Together for Hope" initiative that brings together agencies addressing persistent poverty in the U.S. and especially in Appalachia.
John was raised in Brazil, where his parents served as missionaries and spent furloughs in Knoxville, Tennessee. John is married to Beth Cox Parker and they have three grown children: Stephen, Sarah, and Joel. They are also grandparents for the first time. John enjoys spending time with his children more than anything, but he also plays the guitar, sings, loves poetry and exploring our state and national parks and historic sites.
Visit JW Parker Financial Services for more information.